Meet our Church Clergy and Leadership people
Rev. Sue Beverly
Vicar
Sue has been Vicar of St John's Ōtūmoetai since December 2019. She is an experienced parish priest who has served in several places, including Wales and England.
For her, the life and work of a parish priest is both a joy and a privilege.
Rev. Sue Genner
Priest Assistant
Sue was ordained deacon in November 2019 and priest in November 2020. She serves the parish as Priest Assistant while continuing her theological training. Her love of music led to her involvement with the music group. Sue is also a part-time GP in Pyes Pa.
Lynda Wallace
Parish Administrator
Lynda Wallace is our Parish Administrator. If you require information regarding our church, facilities or want to be pointed in the right direction then Lynda is the one to contact either by phone or email.
Bill Aldridge
Vicar's Warden
As Vicar's Warden, Bill's main role, along with the People's Warden, is to be a lay leader of the parish, to liaise with Vestry and to to support the Vicar. The Vicar's Warden has a particular role in standing alongside and supporting the Vicar and in caring for the Vicar's well-being, as well as that of staff.
Roger Clark
People's Warden
As People's Warden, Roger's main role, along with the Vicar's Warden, is to be a lay leader of the parish, to liaise with Vestry and to support the Vicar. The People's Warden should also be generally available so parishioners may speak to them about any concerns.
Angela Stensness
Children & Families Coordinator
Angela is the Children and Families Coordinator at St John's. She enjoys the opportunity to help nurture and grow the faith of young people and their families within our parish and local community. Find out more about young people and family activities on our Messy Church page.
Merina Foster
Community Activities Coordinator
Merina is responsible for developing and supporting our activities in the community for older adults including Fish n Chips & Games, Books & Friends, Senior Chef and our Golden Age afternoons for residents from local rest homes. She is passionate about engaging with people of all ages and providing a welcoming and inclusive environment.

Stephanie Suttmeier Playgroup Leader

Stephanie is responsible for our early childhood Playgroup. She enjoys providing a wide range of play activities, stories and music for children in a safe, friendly environment and giving parents and caregivers the opportunity to meet and socialise.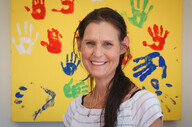 Merina Foster
Toy Librarian

Merina is responsible for managing our Toy Library. She is passionate about providing a platform of play and exploration for children's growth and development. She has a compassionate heart for others and seeks to provide a peaceful and welcoming environment where parents are involved in their children's learning through-play journey.
Maree Gore
OASIS Op Shop Manager

With a welcoming and friendly manner, Maree enjoys meeting and helping customers. She has 25 years' experience in retail and a passion for secondhand goods. The goal of our Op Shop is to provide fairly priced goods which help families and communities and reduce the impact on the environment.
Phone: 07 576-9923

Our Office is at
St John's Anglican Church
94 Bureta Road
Otumoetai, Tauranga 3110